What's new in MindBridge?
Whether you work in the Audit and Assurance or the Enterprise space, the volume of data you are expected to sift through is growing exponentially year over year. Your time is precious, and when trusting in MindBridge, transparency, speed, and the ability to scale are critical to your success.
We have dedicated this release to supporting your professional judgment and providing you with a differentiated strategic advantage for anomaly detection and risk analytics of financial data. Paired with these enhancements to customizability, anomaly detection, and audit standard compliance, your firm will quickly become a market leader.
---
New capabilities for Q2
MindBridge releases 3 updates a year that include new capabilities and feature sets.
Prior period comparison dashboard
To assist you during your assessment of inherent risk, as required by several auditing standards, this new dashboard provides an easy way to compare and assess the current and most recent prior period so you can gain a deeper understanding of period-over-period changes.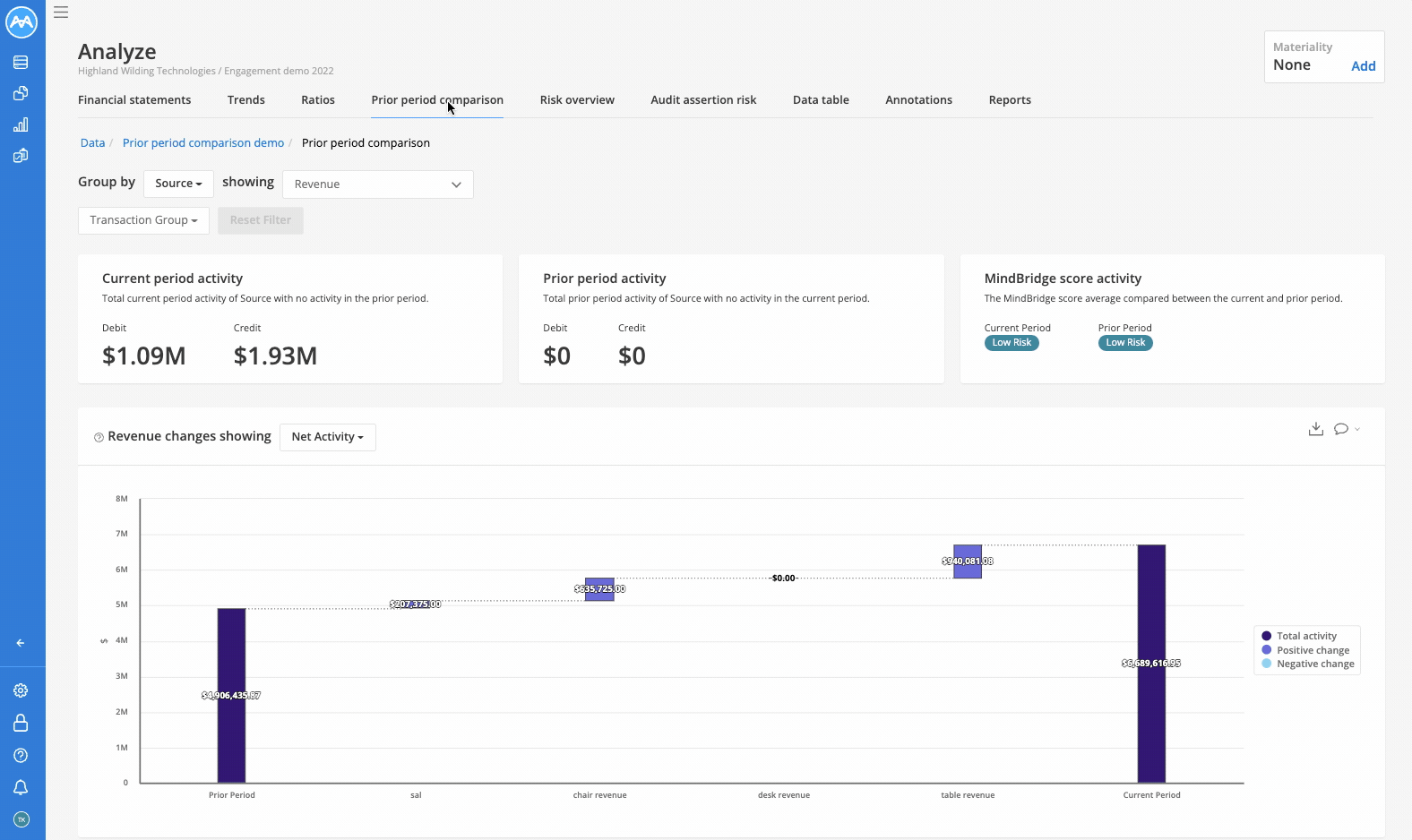 Learn more about the Prior period comparison dashboard
New control points
Control points are the algorithms that power MindBridge's analytic capabilities. Empower your organization by updating to the newest version of MindBridge and gain access to the most advanced control point bundle, including 3 new control points to compare period-over-period transactional activity, identify significant shifts in transaction frequency, and view significant changes in transaction risk profiles. The newest control point bundle also contains updates to existing algorithms to help you identify anomalous data more quickly.
Learn more about recent control point updates
Read our full control point release policy.
If you submit questions about updates to control points, we will endeavor to respond as quickly as possible.
Note: Sign in to the knowledge base with your MindBridge account to access these documents.
Custom report building
New editing capabilities in certain reports give you more power to add and remove various components (such as graphs, text boxes, and more), reposition components on the page, log notes and comments, and apply text styling as needed for your working paper solutions.
Learn more about the Planning analytics report
Learn more about the Significant account report
Learn more about the Summary of transactional risk report
Custom delimiters
The delimiters used in different datasets are as varied as the data itself. Now you can easily add a custom delimiter to show MindBridge where your data columns begin and end.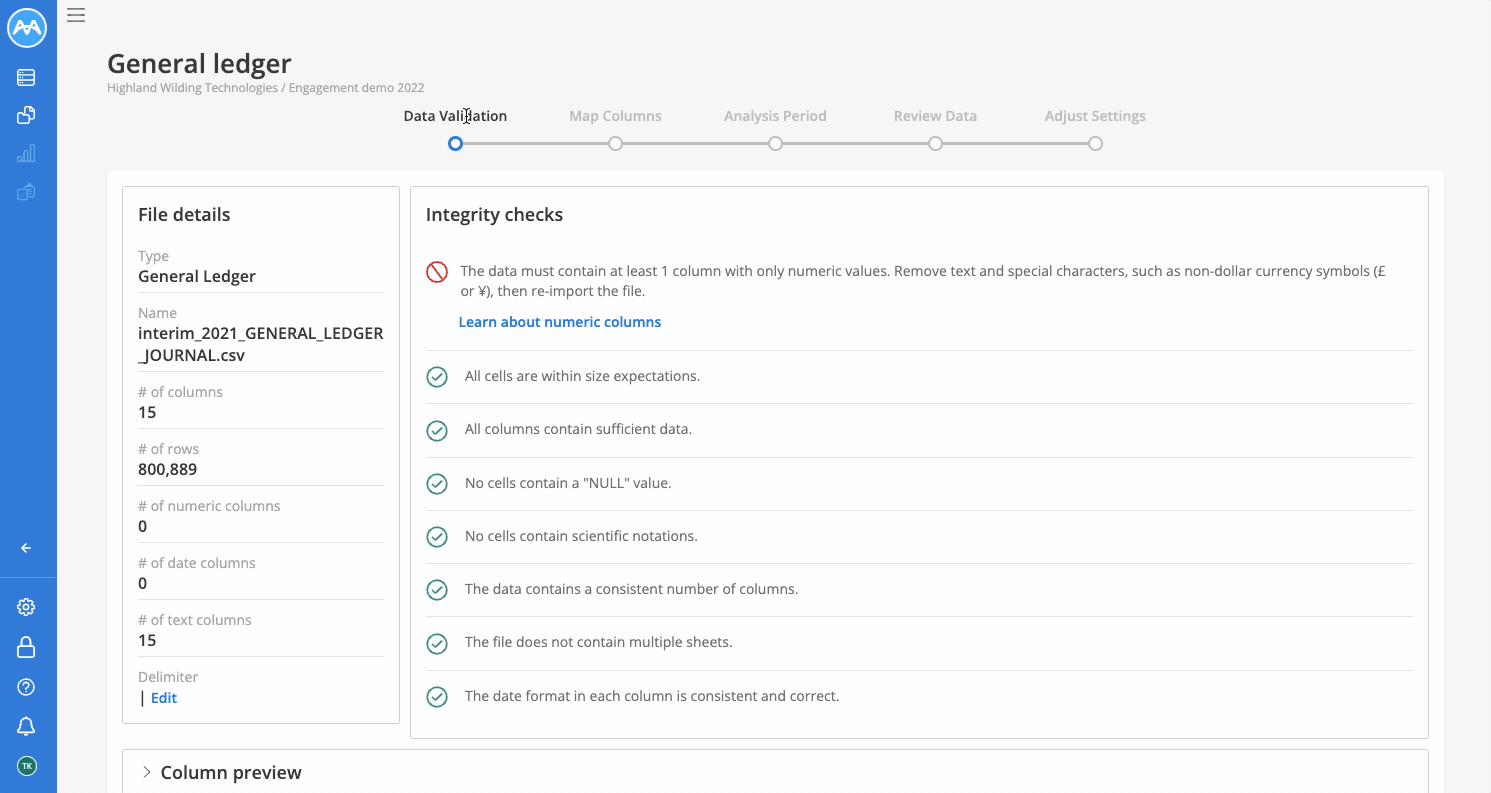 Learn more about adding custom delimiters


---
Improvements
Usability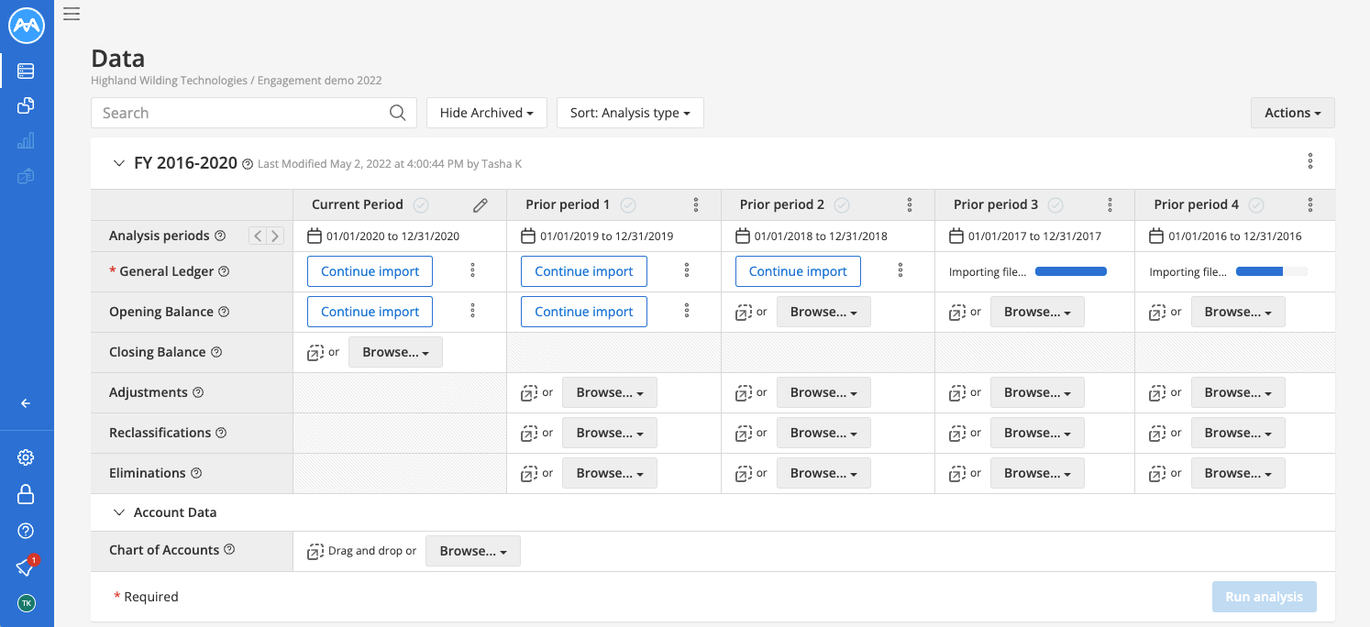 The new Data page layout gives you the ability to import adjustments, reclassifications, and eliminations to any prior period in your analysis
New option to view the most granular general ledger accounts (L4 or L5) on the Financial statements tab
Filters applied to a specific dashboard will persist when navigating between certain tabs in general ledger analyses, including the Risk overview and Data table tabs
New restrictions on editing control point settings for added control over engagements and analyses
New self-serve and Customer Support options in the MindBridge sidebar, including a link to live chat
Scalability
Performance improvements and scalability for large files further extend MindBridge's leading data anomaly and risk detection capabilities and user experience
Canadian French is now supported throughout MindBridge

Stay tuned — more languages to follow!

MindBridge is expanding the data aperture of existing analyses on individual sub-ledgers

Contact your CSM for details


---
📚 MindBridge Academy
---
Anything else on your mind? Chat with us or submit a request for further assistance.