What's new in MindBridge?
With major improvements to how analysis dates are handled, how we connect to third-party applications and visualizing more data than ever before we can guarantee the latest version of MindBridge is not one to miss!


---
Q3 Updates
Define a specific date range for your audit
With analysis period you can define a custom date range for any analysis, providing support for engagements of any length, improving risk scoring, and potentially reducing the data transformation required resulting in faster data import.
Additionally, behaviour for treating out-of-period entries has been improved reducing pressure on data transformation, and control points related to dates have been improved to provide a more informed risk assessment.
Learn more about analysis period in our knowledge base.
Bulk data import
Our QuickBooks and Sage Intacct connectors have been vastly improved to automatically pull all available data needed for an analysis at once.
Learn more about bulk data import in our knowledge base.
Visualize risk on custom categories
Any columns that have been marked for filtering during data ingestion will now also appear as graphs on the Risk Overview dashboard, allowing you to better visualize the risk for the categories that matter to you.
Learn more about custom category graphs for general ledger, accounts payable, or accounts receivable.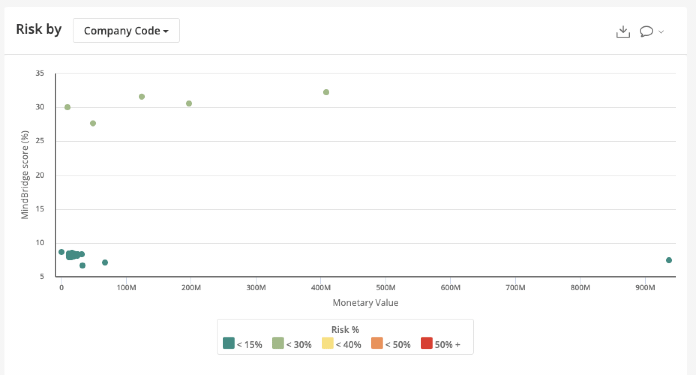 ---
General ledger enhancements
Improved balance sheet and income statements
We've enhanced our balance sheet and income statements to provide both horizontal and vertical views, which display the period-over-period variance and percentage contribution, respectively.
Learn more about the financial statements in our knowledge base.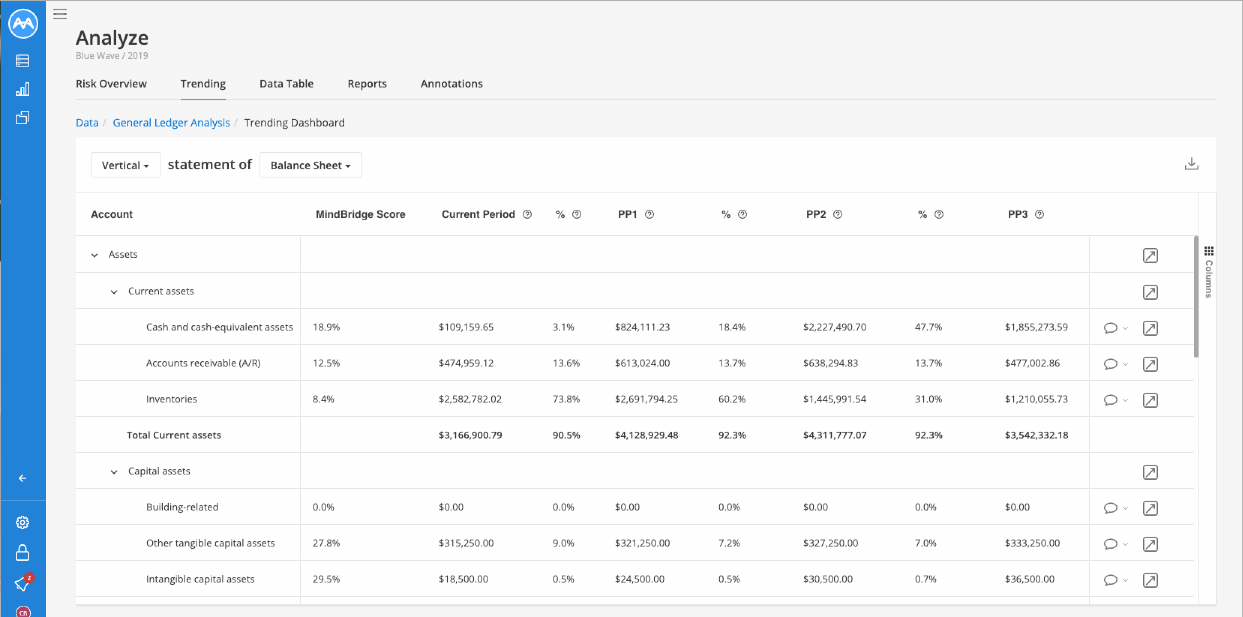 Risk summary reporting
Quickly and easily create a client-ready transaction risk summary report detailing the analysis results with the option to include additional information.
Learn more about the risk summary report in our knowledge base.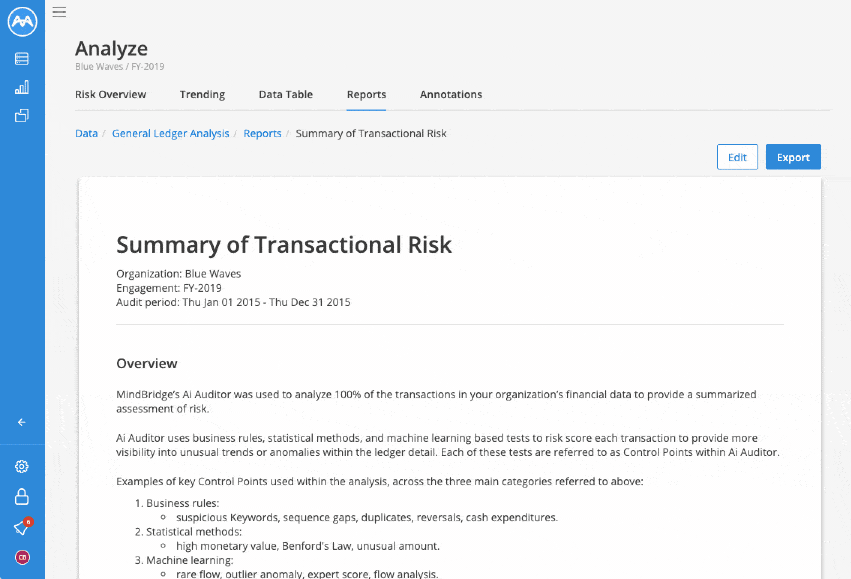 ---
AP/AR enhancements
See risk by assertions and utilize new control points
Get more out of the Risk Overview dashboard with dynamic risk assessment views that will allow you to better inform risk assessment, accelerate sample selection based on identified risk and utilize supporting visuals showing objective-based risks aggregated at the vendor, customer and user level.
Learn more about assertion risk scores on our knowledge base.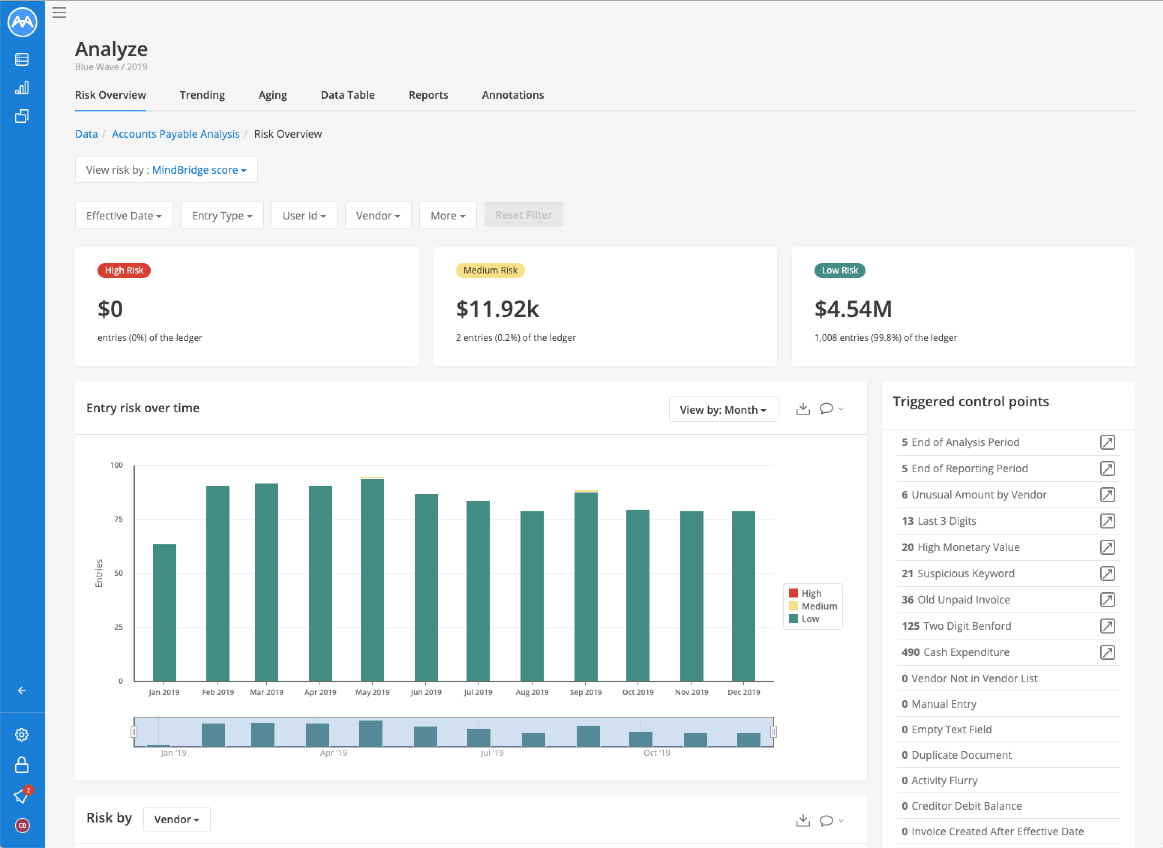 ---
Admin enhancements
Copy ratios when creating a new library
Previously, when creating a new library with your own account grouping, the new library would have none of our system ratios. In this release MindBridge will copy your ratios from the previous library and adjust them to fit your new grouping.
Row usage report
The new Row Usage Report provides you with insight into the size of your clients' current period data files. Users with Admin level access can find the report in the Admin section.


---
Anything else on your mind? Chat with us or submit a request for further assistance.