Summary
An analysis period is a specific date range for a period of time being analyzed within MindBridge. All entries and transactions within the analysis period will be scored when the analysis is run.
MindBridge offers 2 types of analysis periods:
Current period: Generally, this represents the fiscal year being analyzed, but it can be configured to represent any length of time.
Prior period(s): Represents historical data. Most analysis types allow you to add and analyze prior periods of data for a robust view of the data over time.
Note: Analysis periods within the same analysis cannot overlap, but gaps between periods may exist.
The analysis period is typically defined during analysis creation, where you can create:
An interim analysis: Set an interim as-at date that must occur on or after the start date
A full period analysis: Define the start and end dates for the entire duration of the current period


---
Change the analysis period
You can change the analysis period after the analysis has been created from:
The Data page, if no data has been imported for the period, or
The Analysis Period step of the data import process
The Analysis Period step includes a summary of the imported data imported as it relates to the defined analysis period. Here you will see the defined analysis period, the number of entries within the period, the number of entries outside of the period, the credit and debit values of the entries within the period, and a graph displaying the distribution of entries based on the effective date with the period for reference.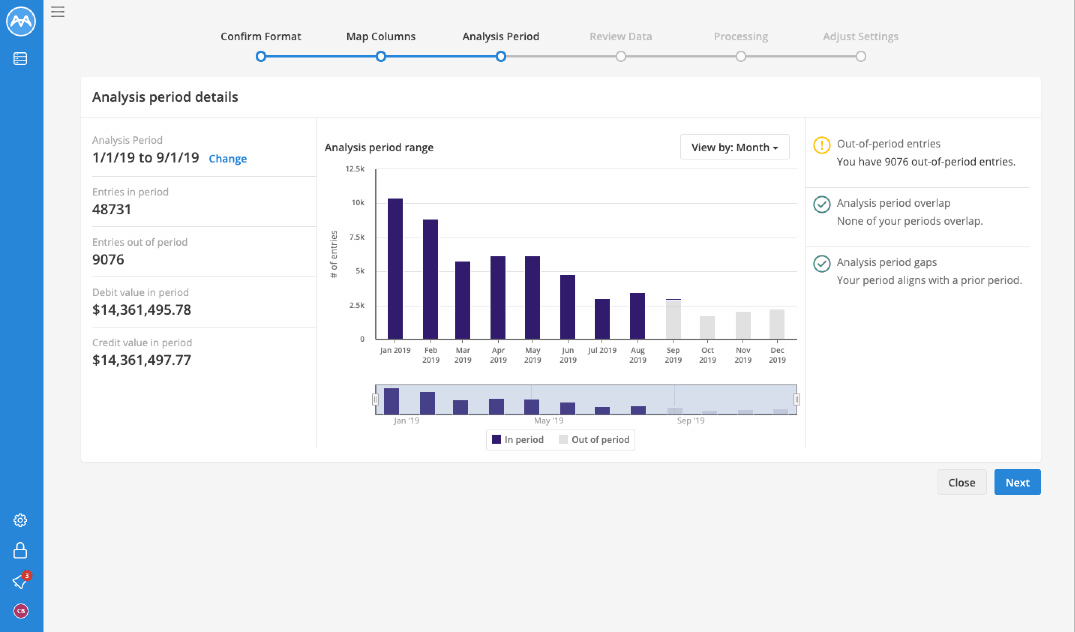 After the data is imported, the analysis period affects a number of areas across MindBridge, including:
The data table, which offers the option to display entries within, before, and after the defined period
Note: Out-of-period entries are shown on the data table for the current period to provide a reference for cut-off procedures. To see out-of-period entries, you must change the data table view to show entries "After Current Period".
---
Leverage prior periods
Adding prior periods to an analysis provides visuals to compare data in the Ratios and Trends dashboards on a year-over-year basis. 
Up to 4 prior periods can be added to any analysis. Adding all 4 allows MindBridge to calculate an expected range in the current period, which is represented by a grey bar on the Trends dashboard and certain ratios.


---
Anything else on your mind? Chat with us or submit a request for further assistance.