Summary
Tasks allow you to streamline your investigations by focusing on specific line items. On the Audit plan page, learn how to:
---
Configuration details
You must have created a task before you can use the Audit plan page.


---
Go to the Audit plan page
Open the MindBridge sidebar and select Audit plan to open it.


---
Search for a specific task
To search for a specific task, such as transaction numbers or sample names, enter your search terms into the search bar, then select the magnifying glass, or press enter/return on your keyboard to submit your query.


---
Apply filters
Filters help identify groups of tasks based on Assertions, Audit Area, Risk, Sample Name and More. You can use the filters in isolation, or select multiple filters to further narrow your search parameters.
To apply filters
Open the desired filter menu.
To see additional filters, open the More menu and use the checkboxes to make selections.
Enter or select your desired filters.
If needed, Apply the changes.
The data table reflects your selection(s) immediately.
To clear all filters from the table, select Reset Filter.


---
Sort tasks
The table on the Audit plan page can be reorganized as needed.
Select the desired column header to toggle between ascending or descending order.
Click and drag a column header left or right to adjust where it appears in the table.


---
Export the audit plan
You can export tasks for the audit plan with or without applied filters.
Select Export.
A pop-up window appears.
Use the toggle within each analysis section to disable/enable that analysis type.
Available analyses are enabled by default.
Check the boxes next to the options you want to include in the export.

Include filtered results: When selected, only tasks found through filtering are included in the export (only available when filters have been applied).
Include task detail*: When selected, full task details are included in the export; when deselected, details are limited to the entries that tasks have been created on.
Include MindBridge Score: When selected, the MindBridge Score column is included in the export.
Include audit assertion risk scores: When selected, the following columns are included:

Existence/Occurence Score
Rights and Obligations Score
Completeness Score
Valuation/Accuracy Score
Presentation/Classification Score
Cut-off Score

Include control point scores: When selected, all control points are included.

Open the Columns menu and check the boxes next to the columns you want to include in the export, or Select all.
Select your preferred file format**:
When you are satisfied, Export the audit plan.
*Note: Tasks created on transactions show details for transactions and entries, but tasks created on entries will only show entry details, not transaction details.
**Note: This is a global action; changing the file format of one analysis type impacts all analyses in the export.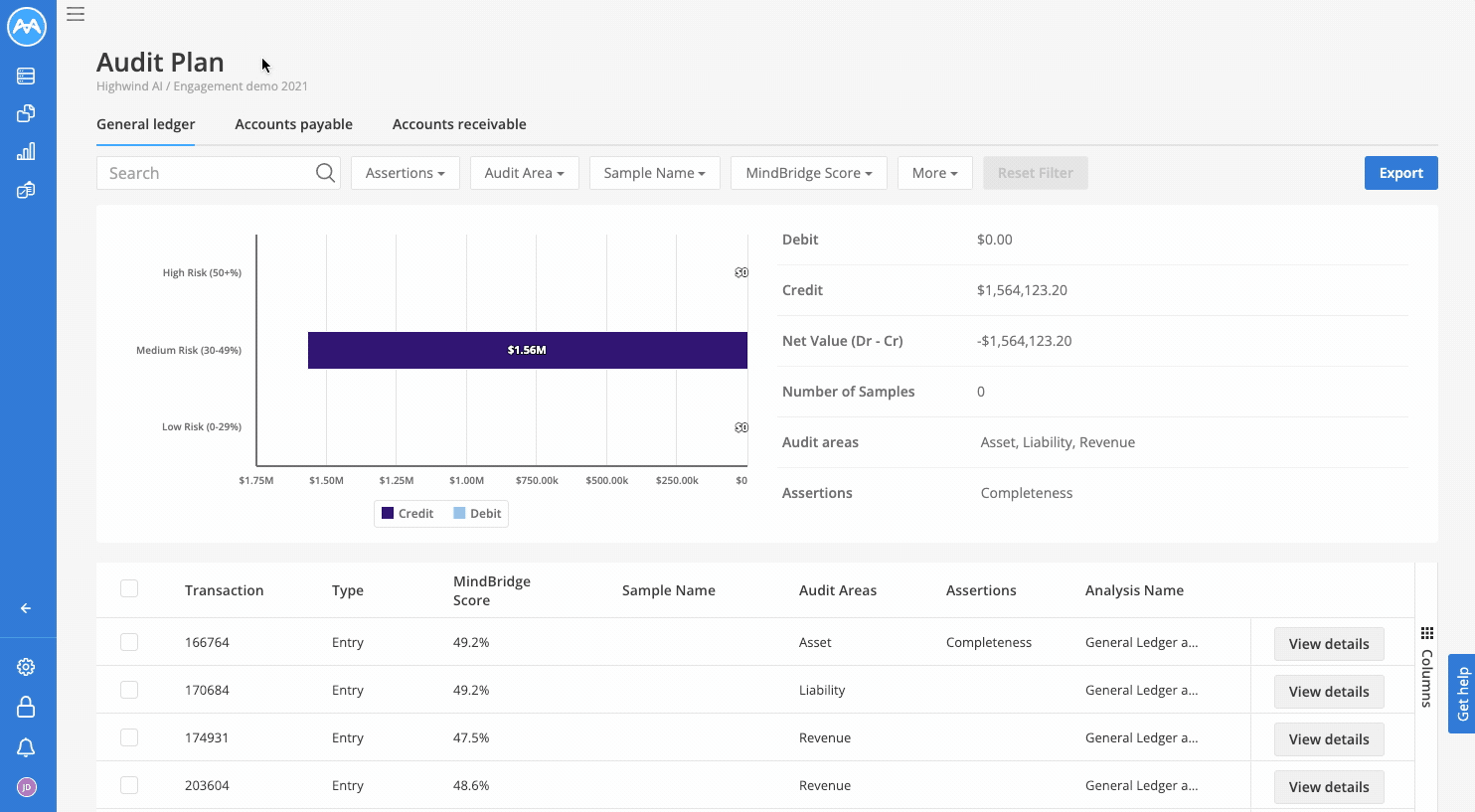 ---
Anything else on your mind? Chat with us or submit a request for further assistance.
---
Related articles