Summary
Learn how to use library details to further configure MindBridge to create a user experience tailored to your firm's methodologies.


---
Configuration details
You must be an App Admin to view and manage library details.


---
Go to the Library details
From the Admin page, go to the Libraries tab.
Open the Actions menu in line with the library you want to view.
Select View Library.
You will go to the Library details tab on the Libraries page.


---
Library details
General settings
This section displays top-level library information.
Library name: The unique name used to identify the library.

This can be updated at any time.

Analysis types: The types of analyses to which this library can be applied.

This can be updated at any time.

Account grouping: Indicates the hierarchical structure used in account classification. Select the drill-down icon ( ) to see the account grouping breakdown.
Industry tags: Indicates the industry within which the organization under analysis operates.
Risk score display: Indicates whether risk scores will be displayed as percentages (default option) or with high, medium, and low risk labels.

This can be updated at any time.
Note: If you want to use labels, graphs that use percentage-based scores will have alternate displays. If you want to use percentages, some graphs will continue to display labels.

Risk scoring permissions: Lets you specify how much control users should have over the control points within each risk score.

This can be updated at any time.

Default delimiter: Indicates the specific delimiter that MindBridge will detect in imported datasets.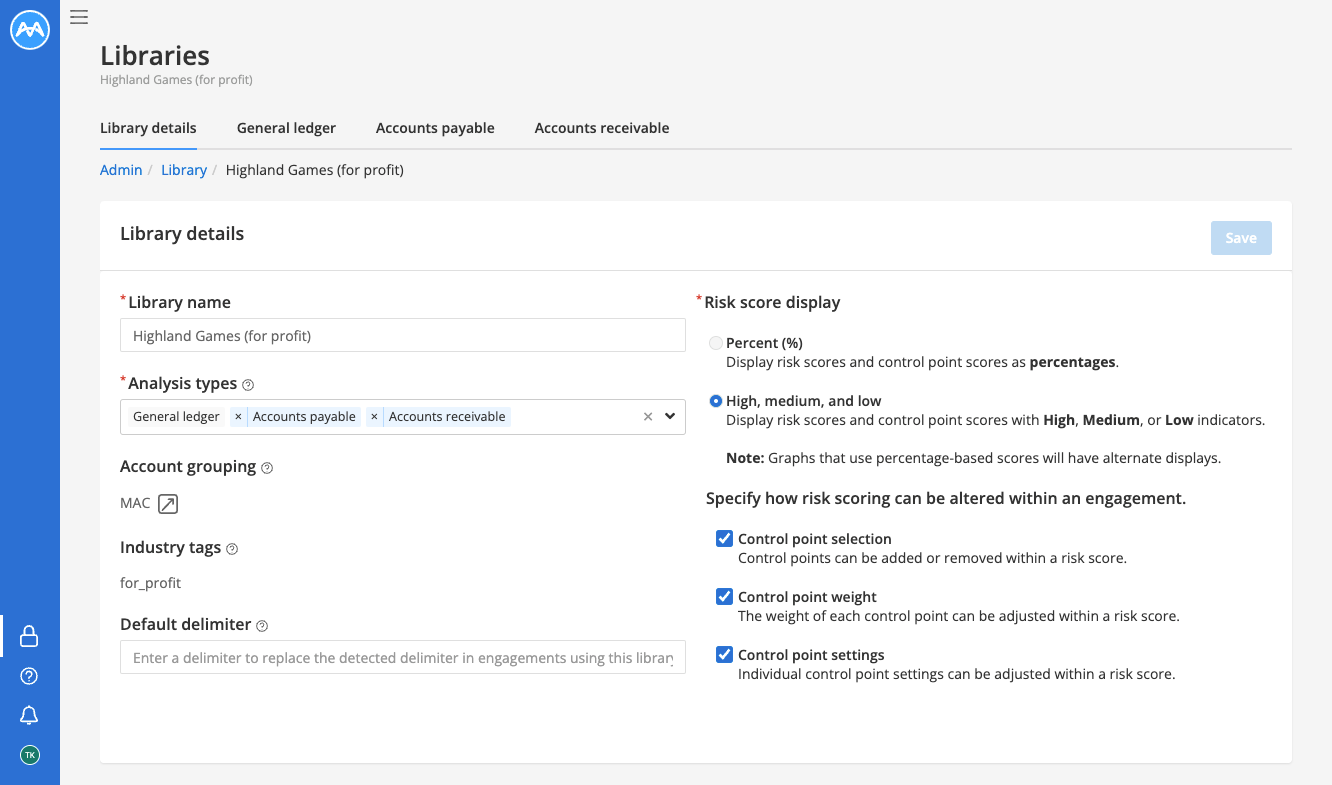 Library usage
This section displays a list of organizations and engagements currently using the selected library.
To view an analysis, select the drill-down icon (
) in line with the analysis you want to go to.


---
Anything else on your mind? Chat with us or submit a request for further assistance.
---
Related articles