What's new in MindBridge
Ensure more accurate results with improved column mapping, data formatting tools, and find what you're looking for quickly and easily with enhanced filtering options using the latest version of MindBridge!


---
Find what you need faster with filtering
With our new dashboard filtering, you'll be able to quickly and easily compare accounts, slice-and-dice the ledger or sub-ledger data, and create custom filters. Your filtering options depend on the columns that have been mapped during the data ingestion process.
Learn more about dashboard filtering for general ledger, accounts payable or accounts receivable.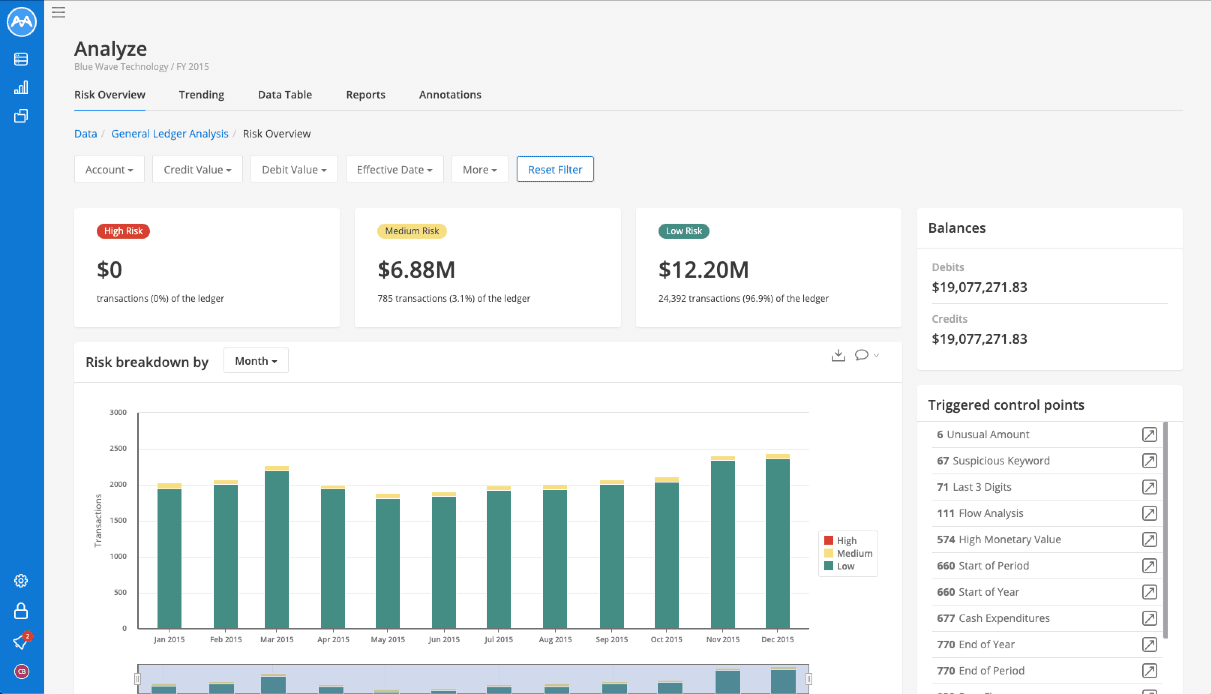 Use custom categories to find what you need quickly and easily
During column mapping, you can specify which columns that have not already been mapped to a MindBridge column to filter on. This provides you with the ability to slice-and-dice different dashboards using custom filters.
Learn more about creating a custom category in our Knowledge Base.


---
Save time by formatting your data within MindBridge
Our improved column mapping allows you to split and join columns, which means you don't have to worry about any simple formatting before importing your data. Cells containing different types of information can be split into their own columns, and conversely columns can be joined to combine their contents into a single column.
Splitting, joining and duplicating columns
You can split a column by simply highlighting a portion of the cell's content, and joining by selecting which columns to combine and confirming. Additionally, splitting and joining can be accomplished through the use of a delimiter, and any formatting done within MindBridge will not affect your original data.
Duplicating your columns will provide the option to map a single column in your data to multiple MindBridge columns at once.
Learn more about the column mapping enhancements in our Knowledge Base.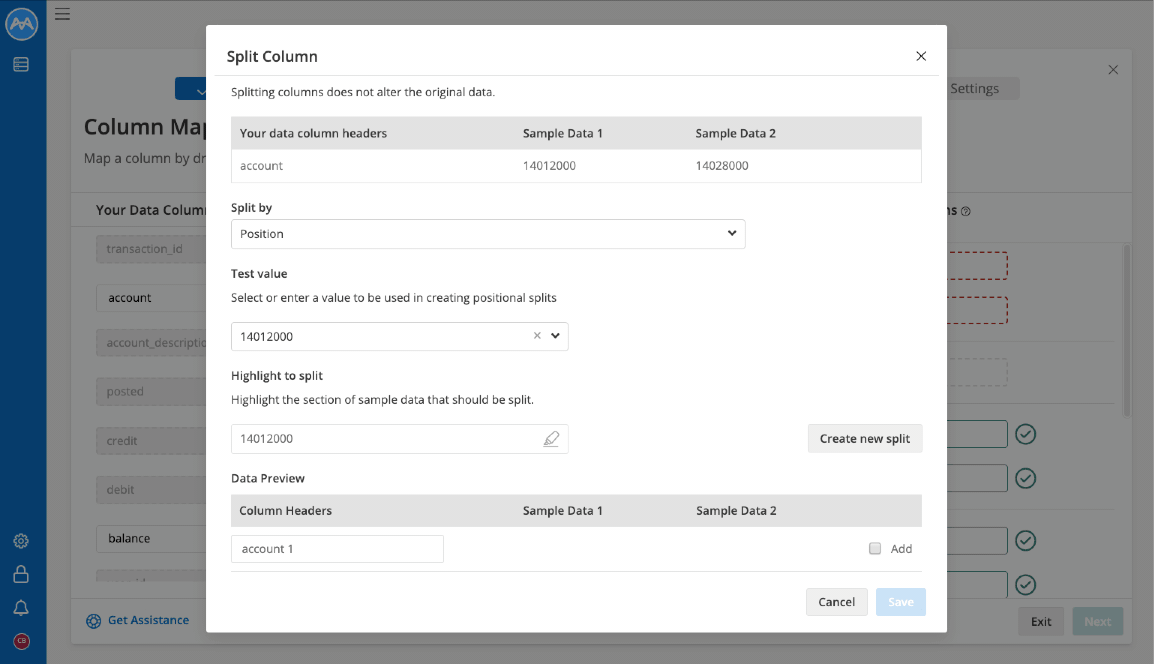 Capture observations and insights
In an effort to better support the need to capture insights, annotations have been enhanced to provide the ability to annotate on all graphs, with applied filters, on the Risk Overview dashboard.
Learn more about annotating in our Knowledge Base.
File Locker
Now you can import and store files related to your engagement, which can be accessed at any time, right within MindBridge. Managing and organizing your files is easy with the option to customize the name and description, specify either original or formatted files and view, edit or download them as needed.
If any files that require formatting our Data Support Team is here to help. Simply import your original files into the file locker and use the Get Assistance feature to get in touch.
Learn more about File Locker in our Knowledge Base.


---
General ledger improvements
Program support for not-for-profit audits
Our existing not-for-profit library has been enhanced to support program based expenses. General ledger analyses using this library will now provide the ability to map a program ID and name. Now you can filter by program within the analysis and access a Statement of Functional Expenses.
Learn more about our not-for-profit support in our Knowledge Base.
See the bigger picture
Our trend of accounts graph on the Trending dashboard for general ledger analyses now offers dashboard filtering and the ability to compare monthly and yearly trends across multiple accounts, programs or other custom columns.
Learn more about the Trend graph in our Knowledge Base.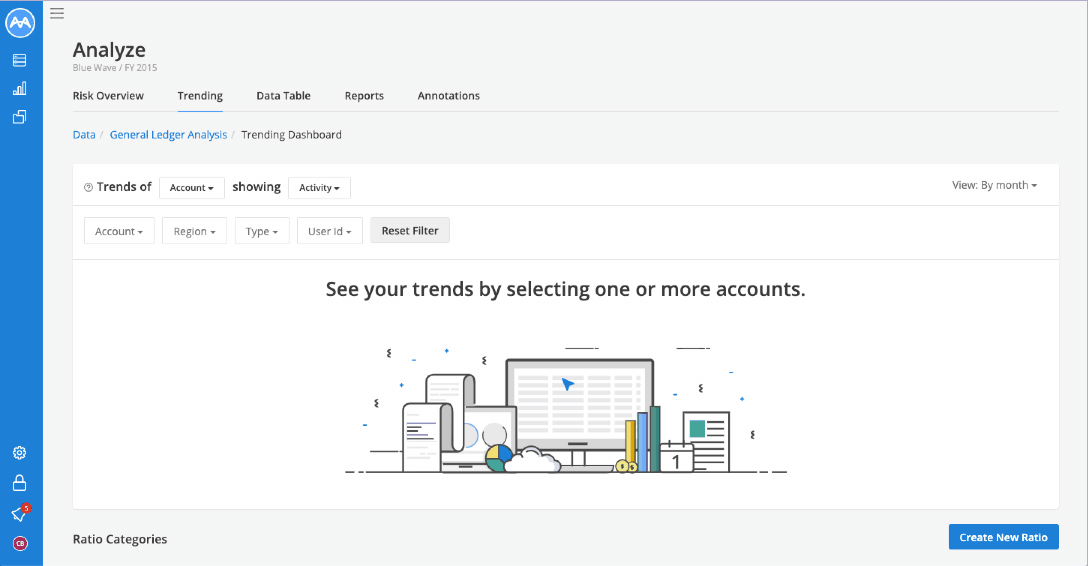 Get a more holistic view of risk
Previously, to view both the risk by account and risk by user graphs you would have to switch between to get the whole picture. Now both can be viewed simultaneously if the user column has been mapped during column mapping.
Automate ingestion of formatted general ledger data
If your team is able to consistently format data to be import-ready into MindBridge, reach out to your customer success manager to discuss if the MindBridge Data Appliance is right for you and your team!


---
Accounts payable and accounts receivable improvements
Find and utilize outstanding entries
With the ability to import end-of-year open payables list files you can now sample on truly outstanding items with confidence. Our new Aging dashboard offers more insight into your outstanding entries with year-over-year comparisons providing further input on both preliminary analytical procedures and assessment on valuation.
Learn more about the Aging dashboard for accounts payable and accounts receivable.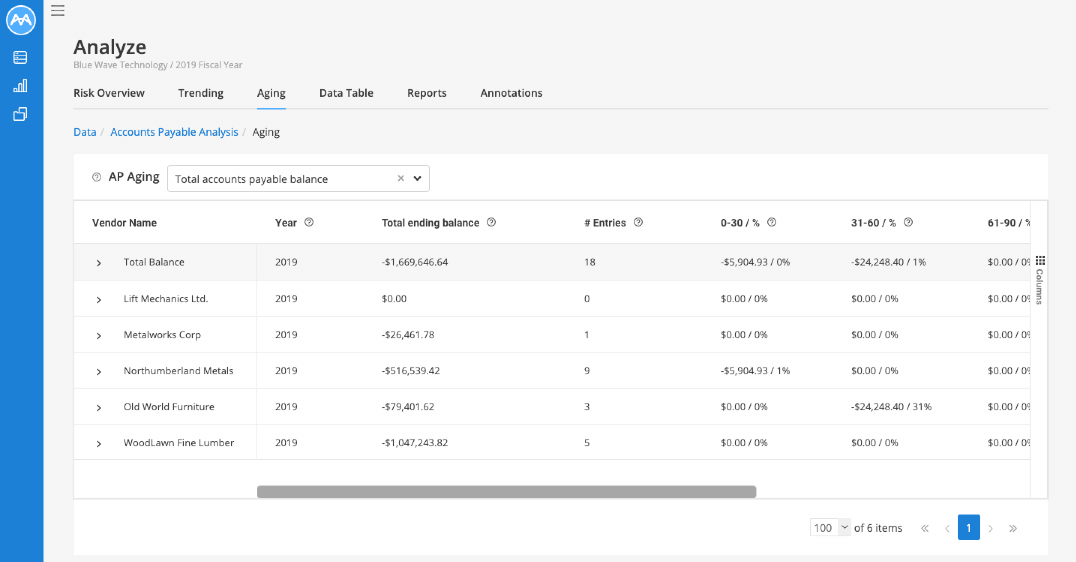 Ensure long-standing vendor and customer relationships
The Trending dashboard has been enhanced to include vendor and customer ratios for Days Outstanding and Turnover, providing additional monthly metrics to assess risk around whether certain vendor or customer relationships are deteriorating.
Learn more about the Trending dashboard for accounts payable and accounts receivable.
Easier data entry
MindBridge now accepts a wider range of file formats from different accounting systems or ERPs, with better handling of invoices that have multiple line items and entry type text formats.
Related parties
MindBridge can help identify related party transactions allowing you to easily carve out balances or transactions for specific testing and review.
Completeness check report
Compare your opening balances, detail, and closing balances vendor-by-vendor or customer-by-customer.
Learn more about the completeness check report for accounts payable and accounts receivable.


---
Other changes
General ledger analyses
The export button for the trended account details report has been moved from the Trending dashboard to the Reports tab
The risk breakdown chart on the Trending dashboard has been removed
The income statement / balance sheet selector on the Trending dashboard has been removed and all accounts are now available on the Trend graph.
Control points
Control points that required MindBridge aging have been removed
The Duplicate Document control point for accounts payable and accounts receivable will now find fewer false positive matches between entries
Annotations
Terminology has been updated for clarity


---
Anything else on your mind? Chat with us or submit a request for further assistance.