Summary
Account mappings imported with a chart of accounts file, or re-imported through the Account Mapping Settings page, cannot be deleted. The engagement data page is a cumulative import source, and each import contributes to the account mapping conditions of the engagement.


---
Resolution
There are 3 ways to remove unused accounts or adjust mappings:
Re-import a new, updated chart of accounts file
The new file will override any existing mappings applied to the general ledger and trial balance account numbers. 
Export and re-import the account mapping summary
Export all account mappings to Excel, apply any needed modifications to the account mappings, and re-import the updated version. This will override existing mappings.
You can also manually modify account mappings on the Account Mapping Settings page, however this can be time-consuming if many changes are needed.
Note: Deleting account mappings from the Excel export will not delete them from the tool upon re-import.
Use the "Delete Unused Mappings" feature
If you have imported an incorrect file:
View your account mapping on the engagement's Data page.
On the Account Mapping Settings page, open the Additional options menu.
Select Delete Unused Mappings.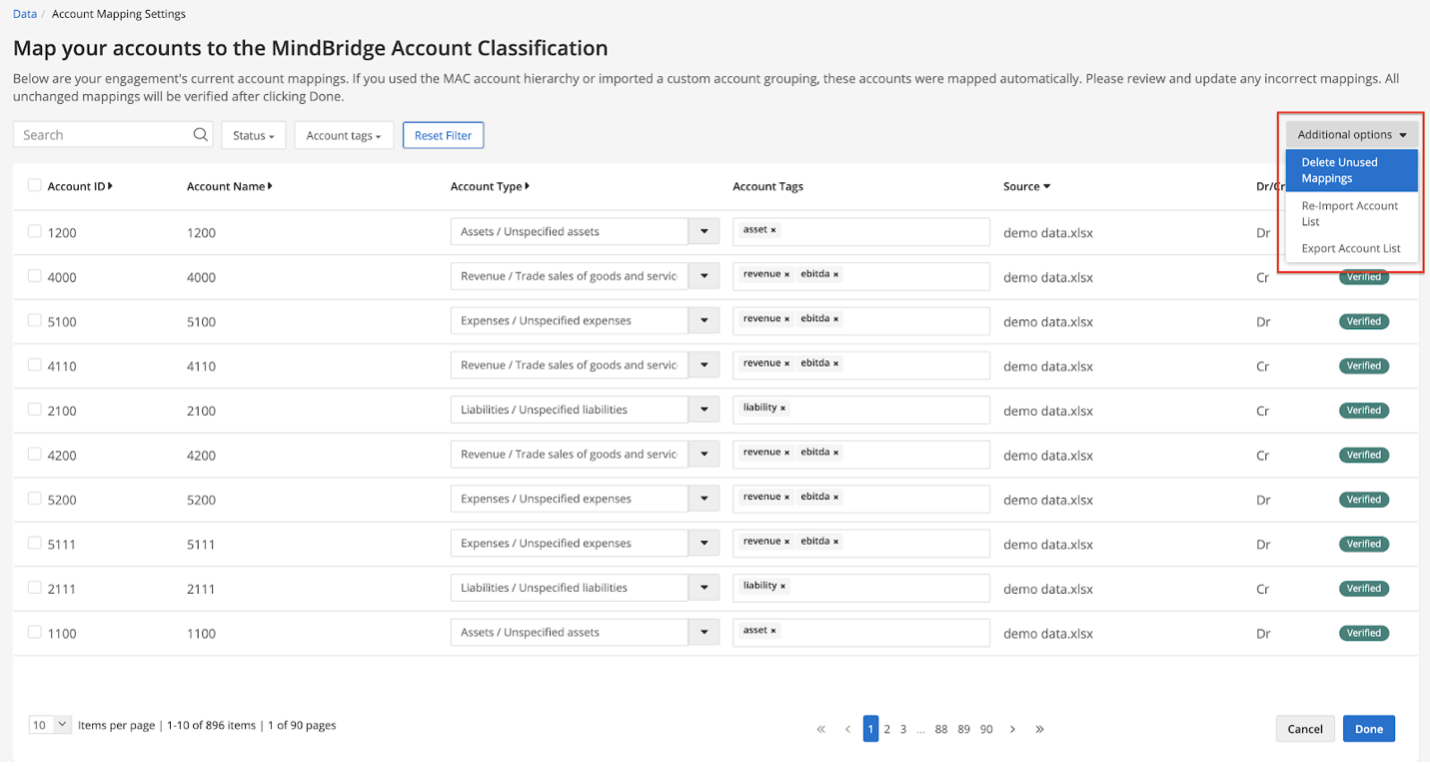 Deleting unused mappings removes any accounts not found in the imported general ledger or opening/closing balance files.
Note: An unused mapping is a mapped account that exists in the engagement's chart of accounts that is not present in any of the uploaded financial data (general ledger, opening/closing balance files). The chart of accounts contains account numbers found in the general ledgers and opening/closing balances, imported across the entire engagement. Deleting unused mappings will only delete mappings assigned to account numbers not found within any imported financial data.
---
Anything else on your mind?
Head over to the community with your thoughts and inquiries! You can also chat with us, or, submit a request for further assistance.
---
Related articles