Summary
Learn about the MindBridge engagement map and how to use it with MindBridge.


---
Overview
The engagement map is an essential planning tool that helps you get the most out of MindBridge. It aligns our teams with yours on things like timelines, training, and resources, as well as data requirements from your clients. It can also help you identify libraries that could be set up based on industry, common financial account groupings, and custom ratios.
By completing an engagement map and reviewing it with your Customer Success Manager, we can better establish a clear line of communication with the appropriate audit managers in charge of each engagement. This ensured your teams have the right information, such as ERP guides and data requirements, at the right time.


---
Use the engagement map
The engagement map is broken up into 4 sections, each providing detailed information about your engagements in advance so we can prepare you with anything you might need.
Internal information
The section in the upper left requires information about your firm, including names and contact information of key stakeholders.
Firm name
Executive sponsor
Project leader
IT contact
MBAI sales rep
MBAI CS Manager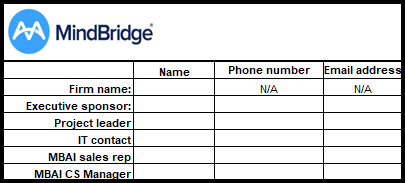 Engagement details
The leftmost section of the chart requires information about each engagement.
Client name
Industry
Does your firm have a standard Account Grouping for the industry?
Fiscal year end
Financial management system
Adjustment period (optional)
Interim
Initial audit data request date
Interim audit field date (optional)
Audit field date
Special considerations and notes

Engagement lead
The center section requires information about the engagement's lead contact.
Name
Phone number
Email address
Title

Additional information
The rightmost section requires additional information.
Status
Custom Library
Comments

---
Export the engagement map
You can export the Engagement Map Template below.


---
Anything else on your mind?
Head over to the community with your thoughts and inquiries! You can also chat with us, or, submit a request for further assistance