Summary
Libraries determine the various permissions and settings applied to each engagement. You can create new, customized libraries to streamline and standardize firm's engagement creation process.
Learn how to create a new library below.
Note: You must be an App Admin to access Admin settings and create a new library.
---
Go to the Libraries tab
Open the sidebar ( ) from anywhere in MindBridge.
Select Admin ( ) near the bottom of the sidebar.
You will go to the Admin settings.
Go to the Libraries tab.
You will see a list of all libraries available in your tenant.


---
Create a new library
Libraries can be selected for use by anyone on your team when they create new engagements.
Select Create library in the top right corner of the libraries list.
A pop-up window appears. 
Enter the Library name.
Select a Base library* or import a library configuration file.
All new libraries must be created based on an existing library. When you select a base library, its settings and permissions (analysis configuration, ratios, filters, populations, segments, risk scores, risk ranges, and control points — varied by analysis type) at that point in time are copied over. Any future changes made to the base library will not be reflected in the created library.
The Analysis types that the library can use are populated automatically. Add and remove analysis types as needed.
Note: For Flex analyses, you must create a custom analysis before creating a new library. Reach out to your CSM to see if Flex is right for your organization.
Select the Account grouping structure the library will use.
Add Industry tags by selecting an existing option from the dropdown menu, or create a new tag by entering it into the field. Learn about industry tags.
Enter a Default delimiter if the datasets you expect to import contain a custom delimiter, otherwise, MindBridge will detect the default delimiter used in the imported dataset. Learn about delimiters.
Select how risk scores should be displayed within MindBridge:

As percentages (default option), or
With High, Medium, and Low risk labels
Note: If you want to use labels, graphs that use percentage-based scores will have alternate displays. If you want to use percentages, some graphs will continue to display labels.

Use the checkboxes to determine the level of control users should have over the control points used within each risk score.
Note: Users have full control over risk scoring permissions by default.

**Control point selection: When selected, allows your team to add and remove control points within each risk score in the engagement settings. Learn how to add and remove control points from risk scores in the library and the engagement settings.
**Control point weight: When selected, allows your team to adjust the weight of control points within each risk score in the engagement settings. Learn about control point weights.
Control point settings: When selected, allows your team to adjust the individual control point settings (such as adding and removing keywords, setting a material value, etc.) within a risk score in the engagement settings.

When you are satisfied, select Create library to create the new library.
You will return to the Libraries tab on the Admin page, where the new library will be listed.
Cancel at any time to discard the new library and go back to the Libraries tab.
*Tip: If you are using a base library with a different account grouping, the checkbox to "Convert library settings for use with new account grouping" controls whether ratios, filters, and populations that reference the account grouping will be brought over.
**
Note:
If you deselect the boxes that allow
control point selection
and adjustment of
control point weight
, your teams will not be able to import risk scores when
rolling forward
or
creating new engagements
.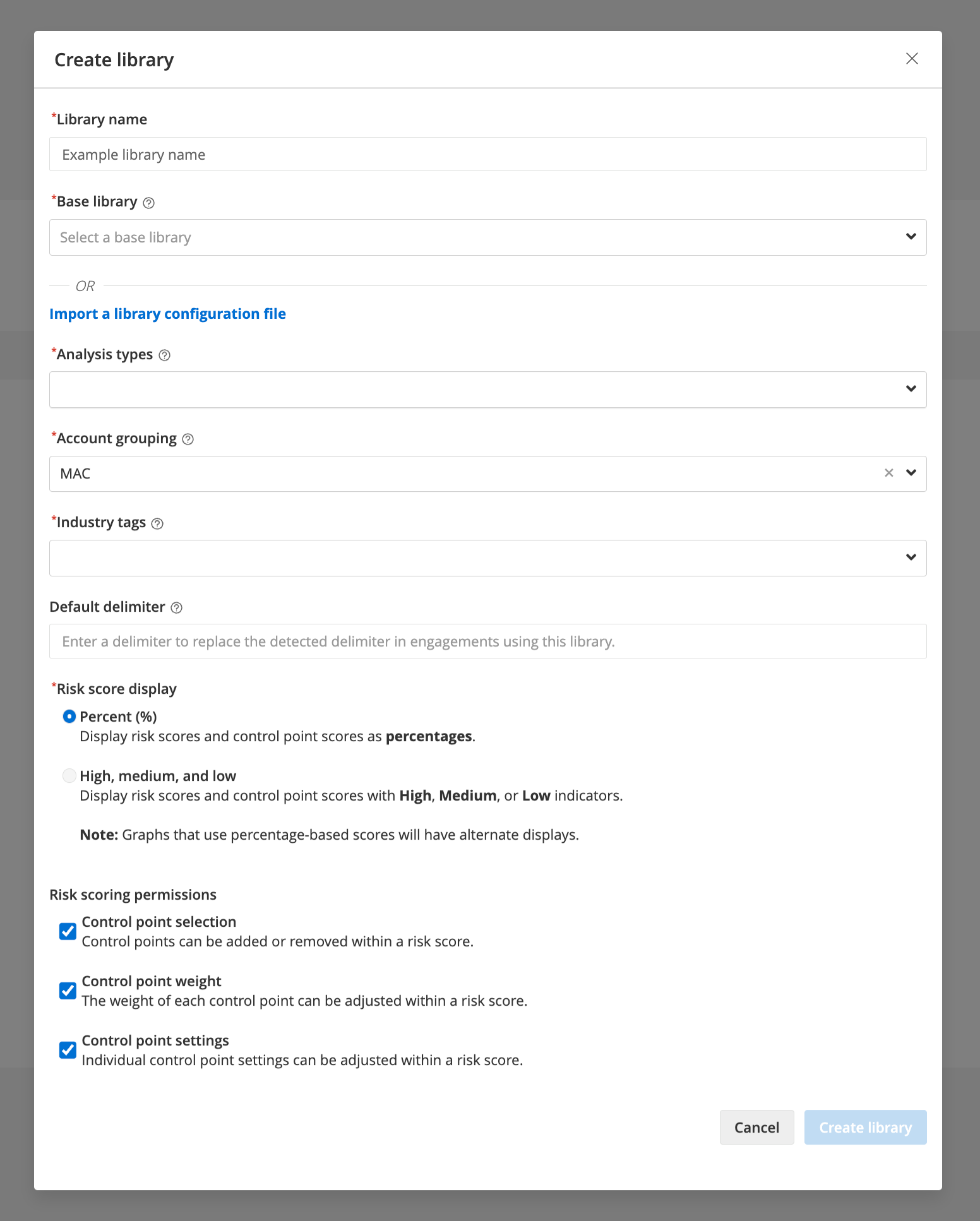 ---
Anything else on your mind? Chat with us or submit a request for further assistance.
---
Related articles