Summary
Learn how to create a new library.
A library contains sets of analyses and settings that can be customized, which allows you and your team to standardize engagements firm-wide. Once a library is created, it is available to all users in the tenant. It can also be applied to new organizations by users with the Organization Creator role privileges.


---
Configuration details
You must be an App Admin to create a new library.


---
Go to the Libraries tab
Open the sidebar from anywhere in MindBridge.
Select Admin.
Go to the Libraries tab.
You will see a list view of all libraries available in your tenant.


---
Create a new library
Select Create library from the top right corner of the libraries list.
The "Create library" window appears.
Enter the Library name.
Select a Base library.*
Select the Analysis types the library will use.
Select the Account grouping structure the library will use.
Add Industry tags by selecting an existing option from the dropdown menu, or create a new tag by entering it into the field.
Enter a Default delimiter if the dataset contains a custom delimiter. Otherwise, MindBridge will detect the default delimiter used in the imported dataset.
Select whether risk scores should be displayed as percentages (default option) or with high, medium, and low risk labels.
Note: If you want to use labels, graphs that use percentage-based scores will have alternate displays. If you want to use percentages, some graphs will continue to display labels.
Use the checkboxes to select the level of control users should have over the control points that make up each risk score.
Note: Users have full control by default.
When all fields have been completed and you are satisfied, Create the new library.
New libraries are listed under the Libraries tab on the Admin page.
*Note:
All new libraries must be based on an existing library to extract predefined ratios, filters, and
control points
for analytics.
Tip: If you are using MindBridge's base library's ratios with an account grouping, make sure to select the checkbox that says "Convert library ratios to new account grouping (this may take a few minutes)."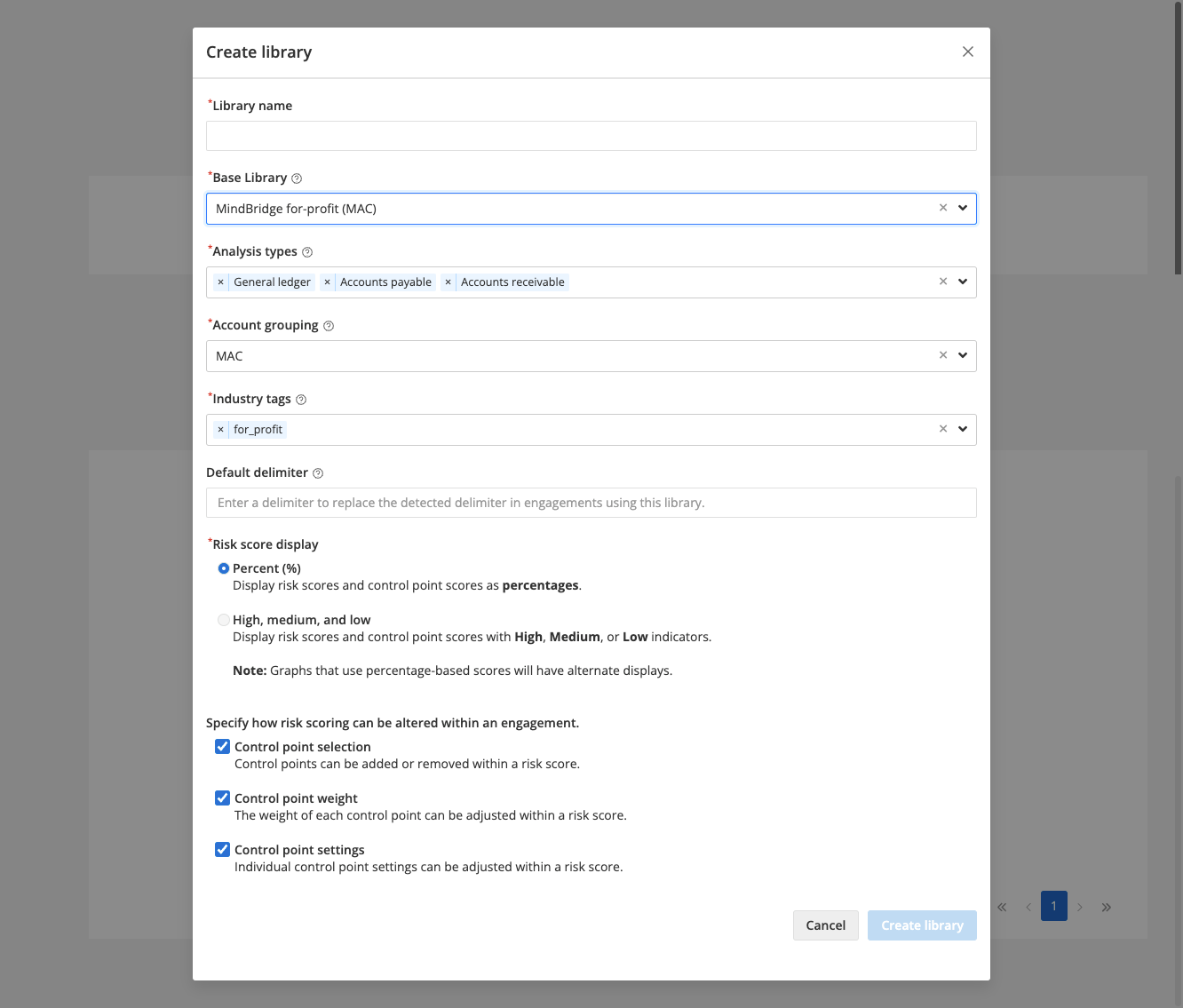 Cancel at any time to discard the new library and go back to the Libraries tab.


---
Anything else on your mind? Chat with us or submit a request for further assistance.
---
Related articles