Summary
The Organizations page is the default page when signing in to MindBridge. Here you'll see a list of "organizations" that you own or belong to, which in turn house the engagements and analyses you can access. 
Note: You will only see organizations to which you have been added or have created yourself. If you do not see an organization, reach out to the person who created the organization, a Manager within the organization, or an Admin at your firm to request access.
---
Go to the Organizations page
Select the logo at the top of the MindBridge sidebar. You will go to the Organizations page.


---
Create a new organization
Select Create organization.
You will go to the Create Organization page.
Provide an Organization name and Client ID.
Optionally, add additional managers to the organization by entering their email addresses.
To create the organization:

Select Save and Exit to create the organization and go back to the Organization page.
Select Next to create the organization and proceed automatically to the Create Engagement step.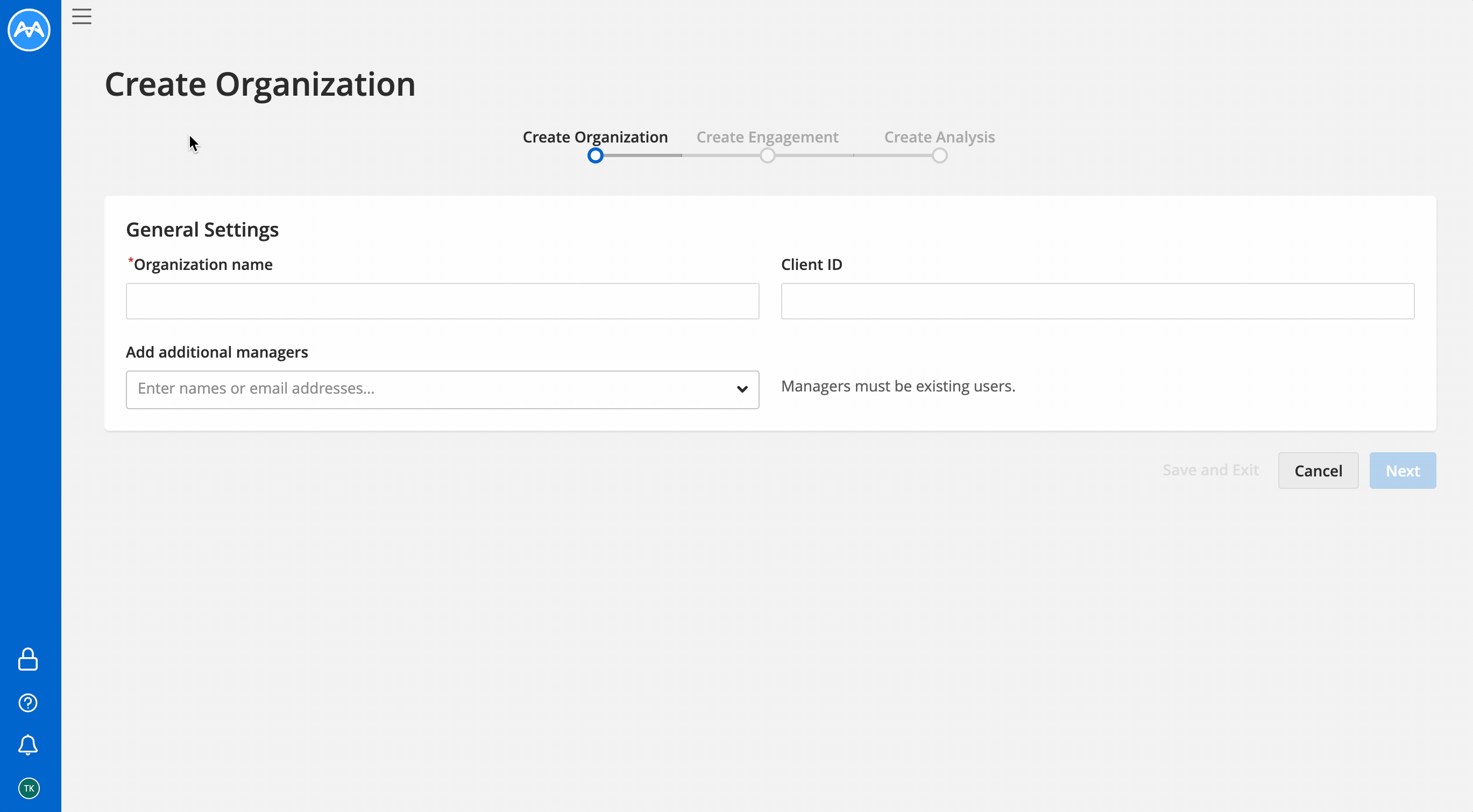 ---
Search for an organization
You can search for an organization using keywords.
Enter your search terms (in part or in full) into the

 

Search

 

field. 
Note: The keyword must appear within the annotation name or the description.
Press

 

enter/return

 

on your keyboard, or select the

 

magnifying glass

 

icon (

 

 

).
Select the X icon to delete your search term(s). 


---
View an organization's engagements
To view the engagements within an organization, select View in line with the desired organization, or click anywhere in the organization row. You will be taken to the organization's Engagements page, which lists all of the engagements within it.


---
View organization settings
Open the MindBridge sidebar ( ).

Open the

Settings

menu (

).

Select Organization settings.
You will go to the General settings tab in the organization settings.
Learn about organization settings.


---
Anything else on your mind? Chat with us or submit a request for further assistance.