Navigation
Procedure
Once you locate the organization you want to adjust, click the settings icon within the organization's card on the Organizations page. If you don't see your organization on the screen, you can use the search bar to find it by name.
General Settings Tab
You'll be taken to the organization's General Settings tab. From here you can choose a new Name and Client ID.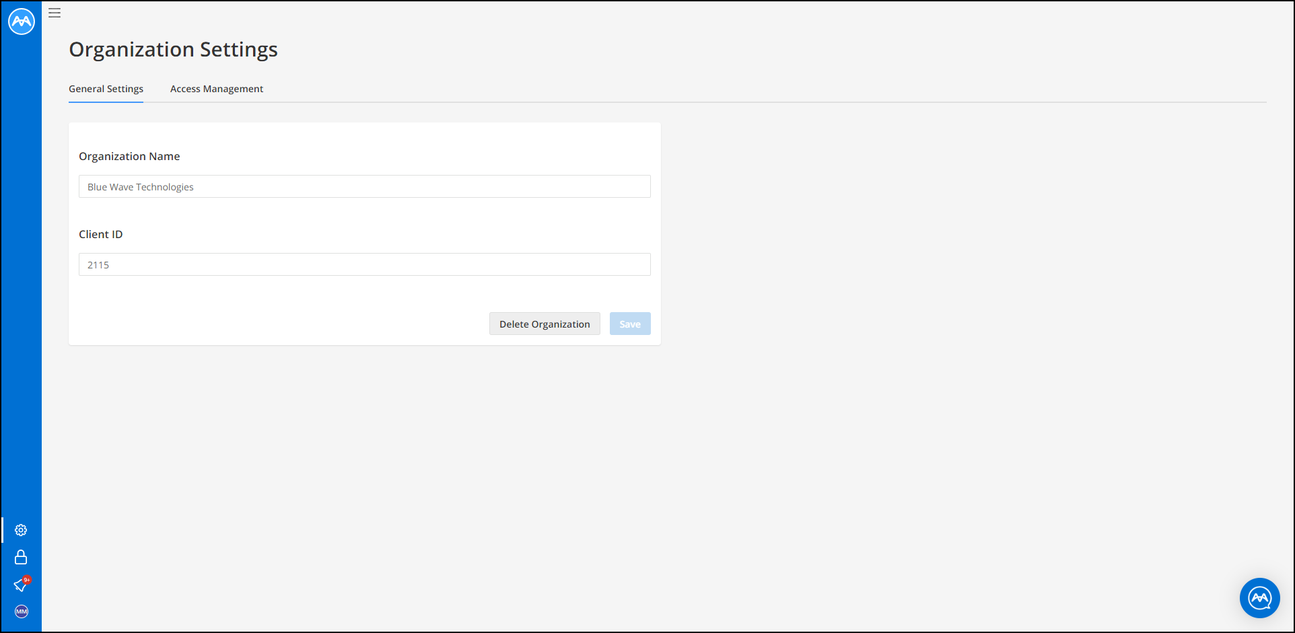 Once you've made your adjustments, click Save to save the changes you made.
A notification will appear on your screen notifying you that the organization's name has been successfully changed.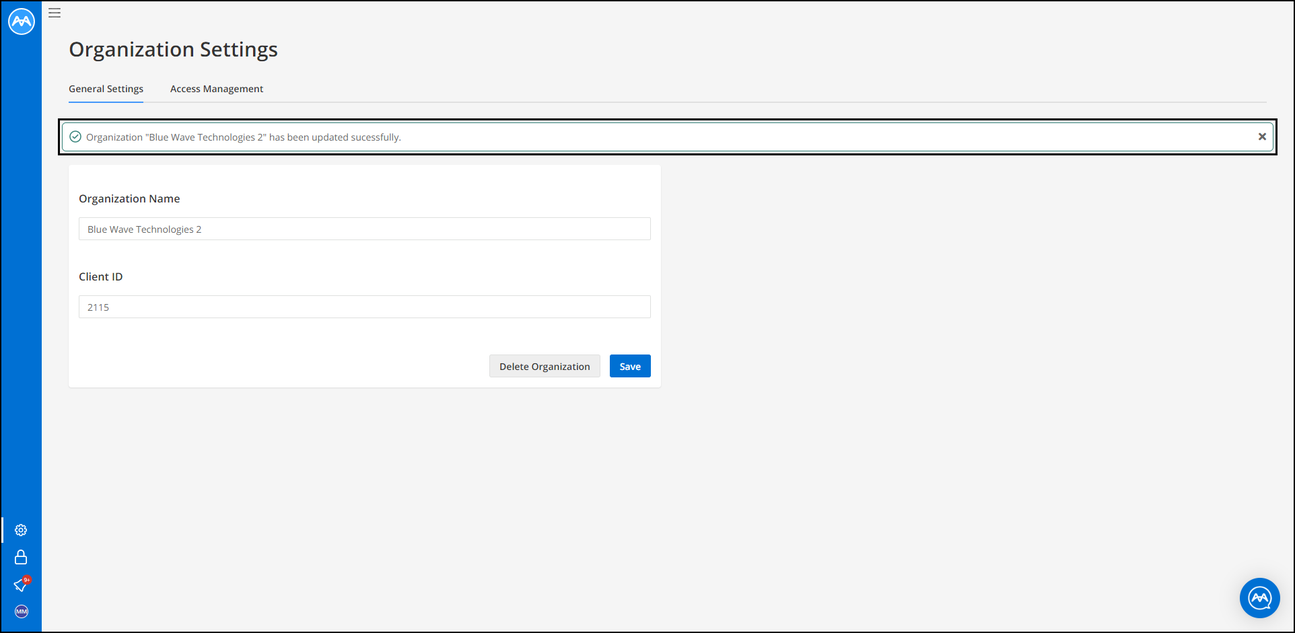 General Settings Tab - Deleting an Engagement
From the General Settings tab, click Delete Organization.

The Delete Organization form will appear on your screen. Before you can delete your organization, you must check every checkbox reiterating the consequences of deleting an organization.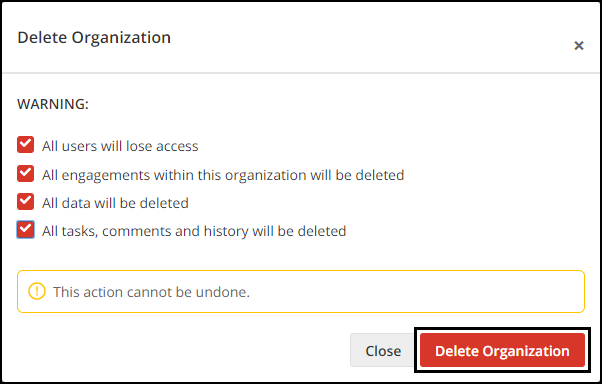 Once you're ready and realize the consequences, click Delete Organization to permanently delete your organization and all of it's associated data.
You'll receive a toast notification on the upper right of your screen indicating that the organization has been successfully deleted.

Access Management Tab - Granting Users Access
NOTE: To add a user to an organization, they must already be a MindBridge user.
To grant users access to this organization, or edit the permissions of a current user, click the Access Management tab.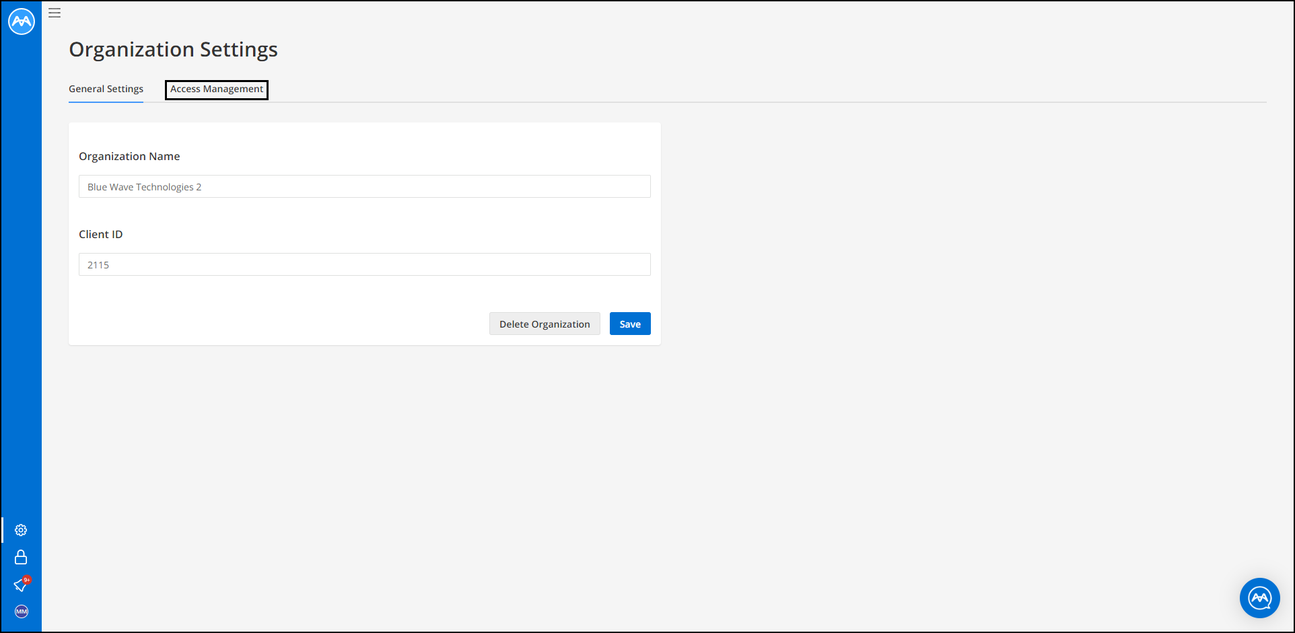 To grant users access to the organization, click the Grant new access button in the upper right of the page.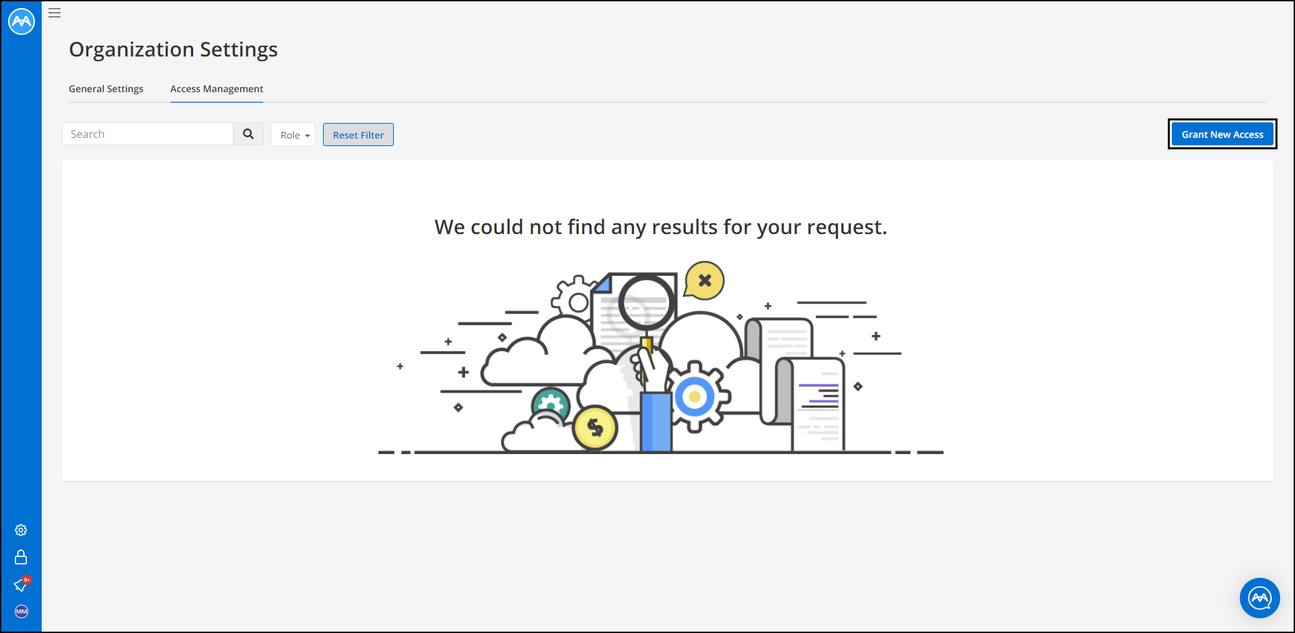 The Grant Access modal will appear on your screen.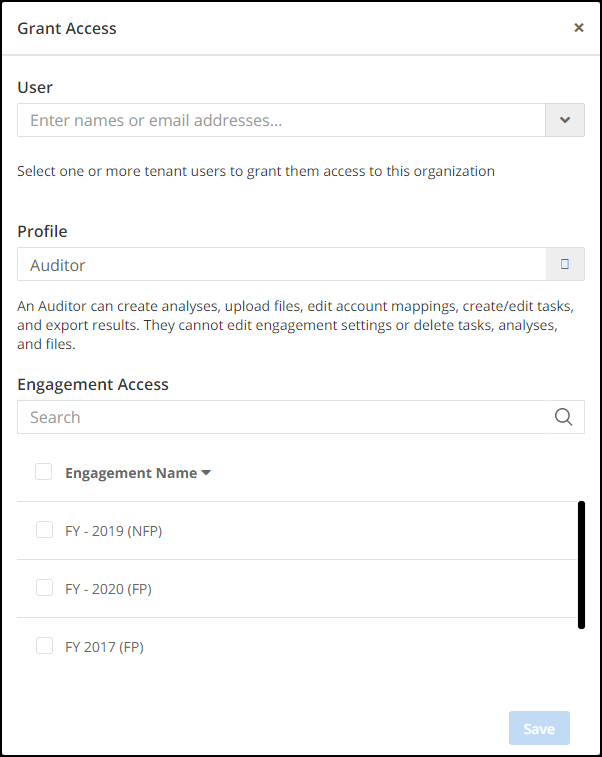 Add the user in the User field by searching their email or name.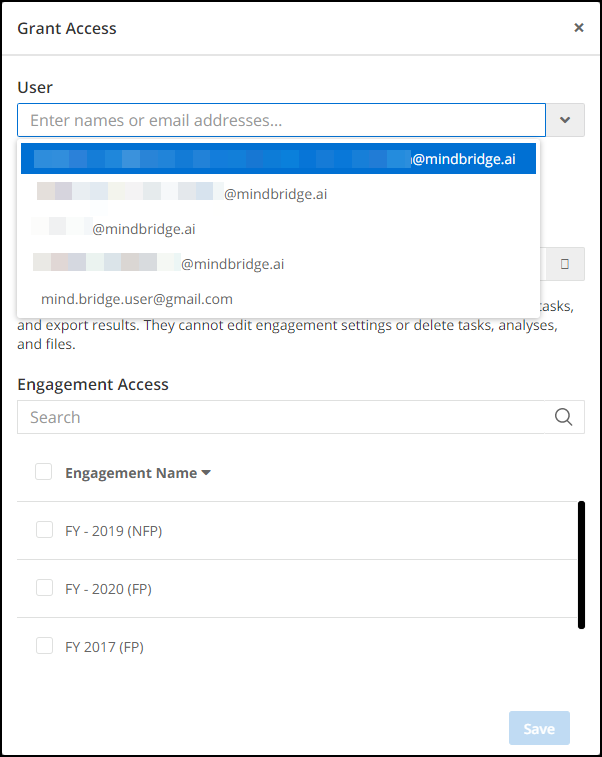 You can add multiple users, which will be listed under the User field.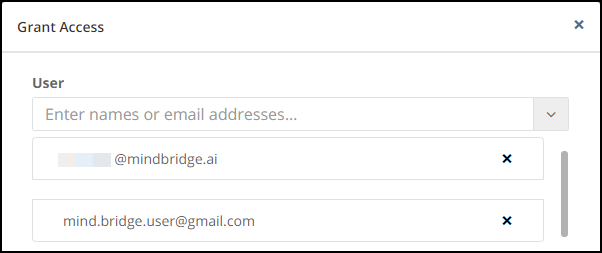 Once you have selected the new user(s), choose their level of access in the Profile field.

A Manager can create, edit, and delete engagements within this Organization. They can invite Auditors to the Organization and the Engagements within it.
An Auditor can create analyses, upload files, edit account mappings, create/edit tasks, and export results. They cannot edit engagement settings or delete tasks, analyses, and files.
Once you have selected the profile for the user(s), use the checklist to grant them access to specific engagements in the organization. If you have many engagements, you can use the search bar to locate engagements by keyword.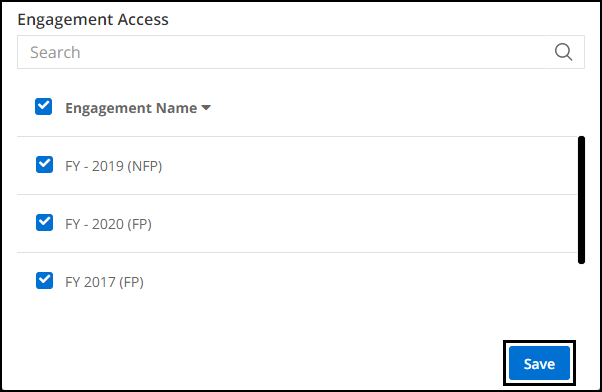 To finish granting the user(s) access, click Save in the modal. All of the users will now be listed in the table on the Grant Access tab.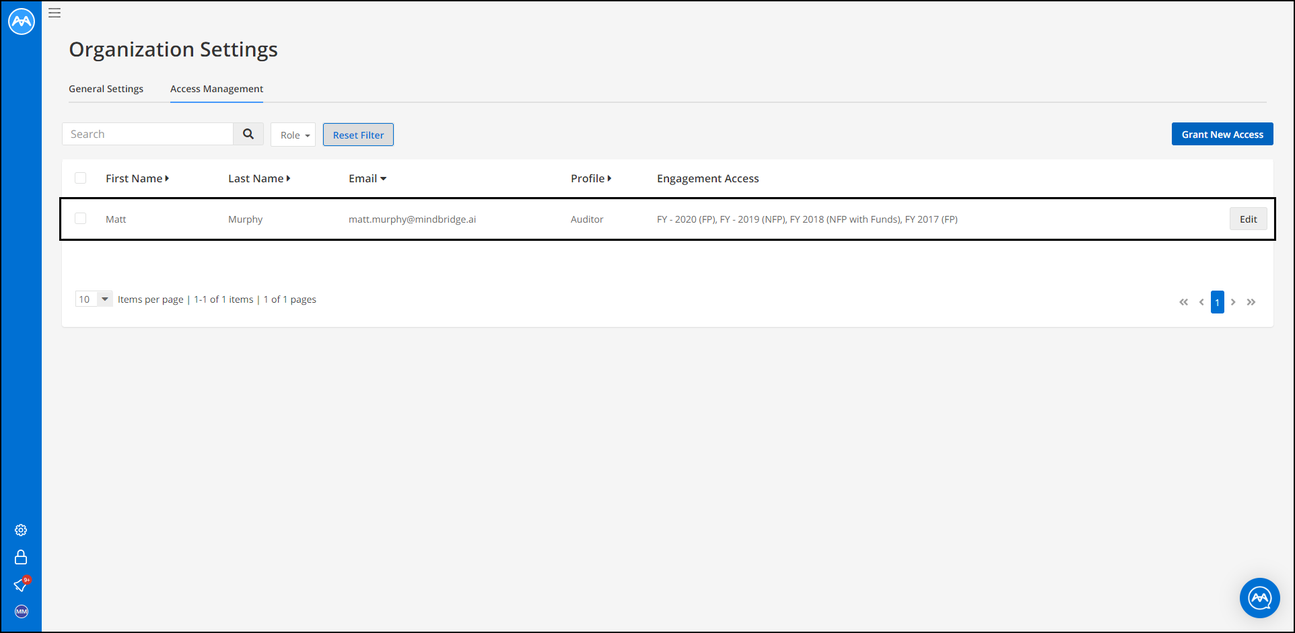 Access Management Tab - Editing User Access
To edit the level of access, or delete, a user from an organization, click Edit on the right side in the table within the data row for that user.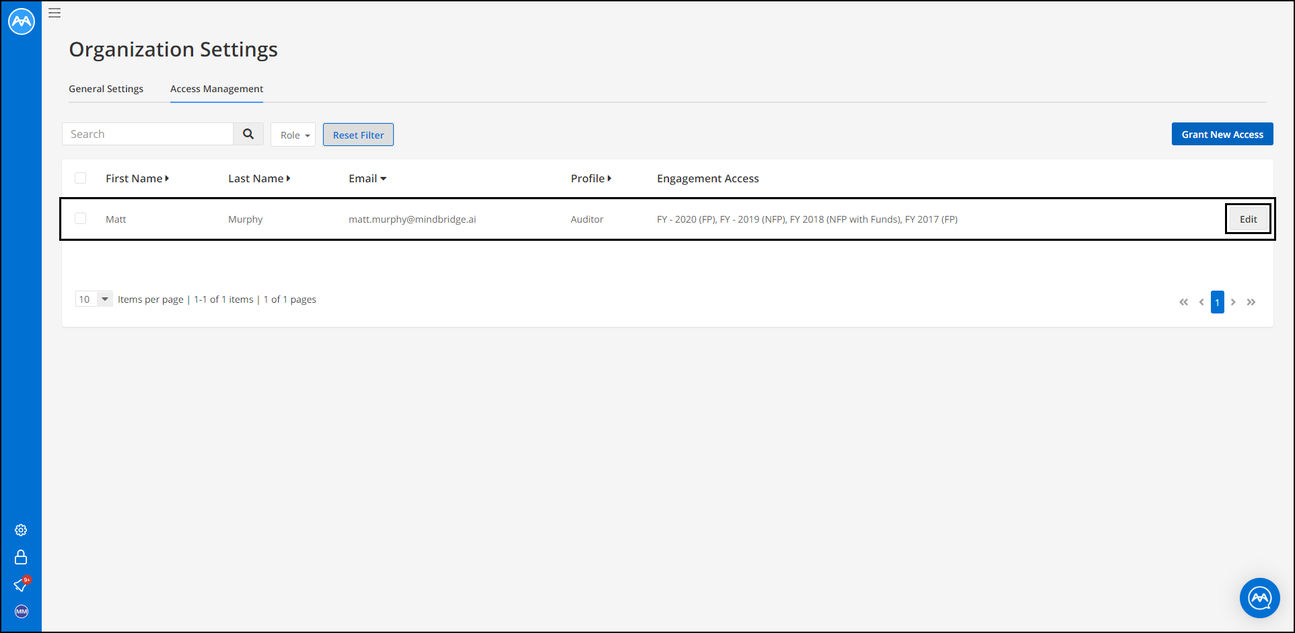 The Edit Organization Access modal will appear on your screen, which contains the same fields as the Grant Access modal. Adjust the settings as required and click Save at the bottom of the modal.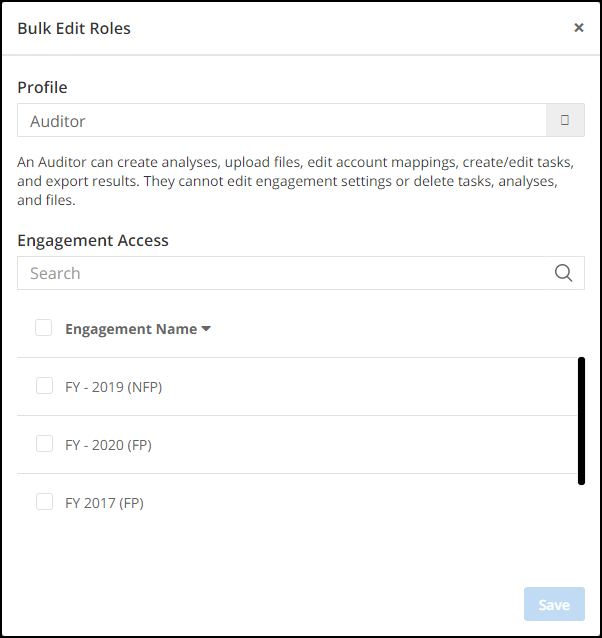 To remove a user altogether, click Remove Access.