When using MindBridge, your organization will have what we call a "tenant." A tenant is a space that belongs to your organization.
The address to your organization's tenant follows the following format:
https://xxxxxxx.mindbridge.ai.
The "xxxxxxx" portion of the address is defined by your organization.
When visiting your organization's tenant in a browser, you will be presented with a login screen. Enter the email address and password you used when Creating Your Account and click Login.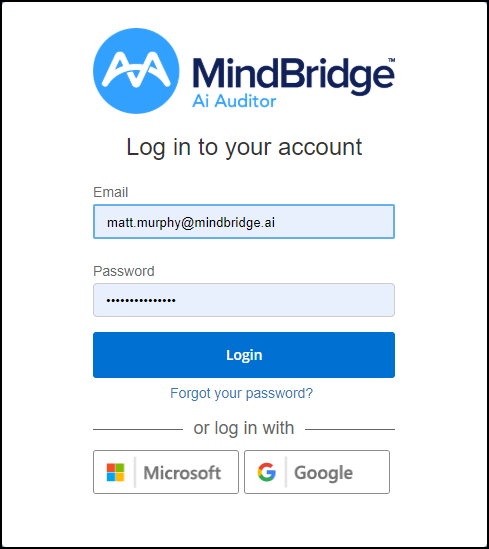 Note: You must be invited by an Administrator before you can log in to MindBridge. Reach out to your organization's Admin if you need access to the Tenant. If you don't know the email address associated with your account, reach out to support@mindbridge.ai
You can also use Single-Sign-On (a commonly used login method across websites) to login using your Microsoft or Gmail account.

To learn more about Single Sign-On, visit:
If you have any questions, please contact support by using the in-app chat feature, reaching out to your assigned Customer Success Manager, or by emailing support@mindbridge.ai directly.