Receiving the Email Invite
When your System Administrator invites you to use MindBridge, you could receive an email invite. If you haven't received anything yet, be sure to reach out to them and make sure it's been sent! You may also want to check your spam folder.
The email invite will look like this: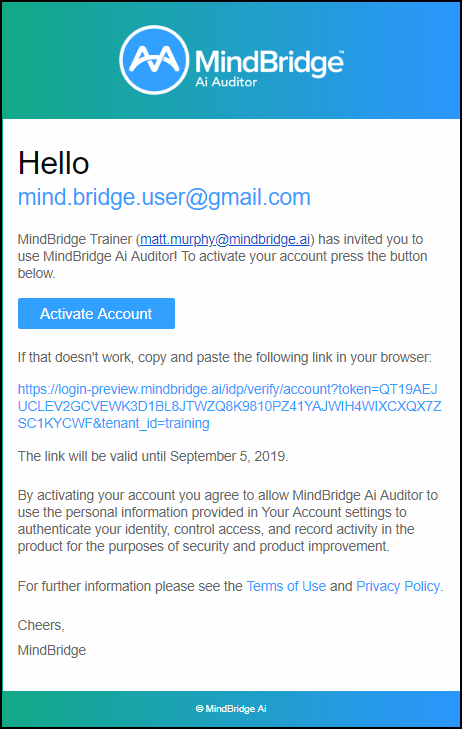 Click Activate Account in the email to begin creating your account.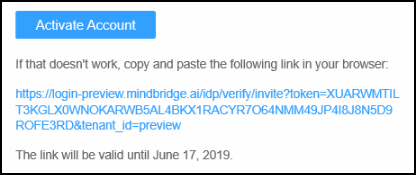 NOTE: If the button "Activate Account" cannot be clicked, it might mean that your IT department has disabled email links for security reasons. If that's the case, copy the provided URL directly into your browser.
You'll be taken to the MindBridge Privacy Policy page. Click Confirm to agree to MindBridge's terms and services.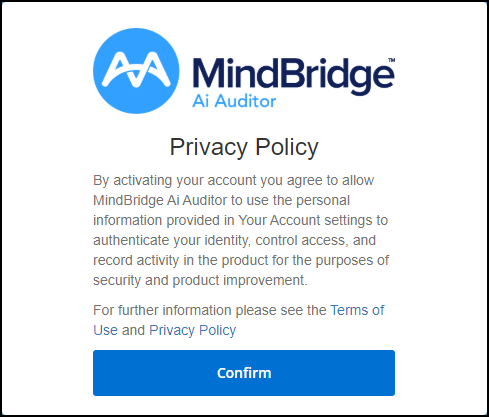 You'll be taken to the Enter You Personal Details page. Provide your personal information which will be associated with your MindBridge account. Once you've added your personal information and your password, click Set my password.
NOTE: If you use repeating sequences (eg., 1111 or aaa) for your password, it will be rejected. Your password also must be at least 10 characters long, and contain:
At least one uppercase letter
At least 1 lowercase letter
At least 1 number
At least 1 special character.
You'll then be taken to the User Information Submitted! page. Click Login With New Password to log in to MindBridge for the first time.
You'll also receive an email informing you that your account has been successfully created.
If you have any questions, please contact support by using the in-app chat feature, reaching out to your assigned Customer Success Manager, or by emailing support@mindbridge.ai directly.